The Swatch Kit from Swatch Right™ for paint color samples includes a nifty foam brush.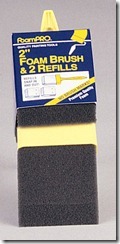 Here's a tip to get a smooth finish using a foam brush to apply water-based paint color samples.
Like all the components in The Swatch Kit, FoamPRO© foam brushes are made in the U.S.A.  It comes with one plastic handle and three foam brush heads – genius and eco-friendly.
Rinse it before you dip it.
Rinse the brush first.  Wring it out so it's only slightly damp.  Slightly dampened, the brush easily loads with paint and facilitates even application eliminating streaky strokes.
Super quick video shows this tip in action.
FOAM BRUSH HOW TO:
Transcript of Video:
Hi everyone this is lori from Swatch Right and I want to share one of my best tips for using a foam paint brush with waterborne paints.
And that tip is to rinse the brush first.
Ring it out really well because we only want it slightly dampened.
We're ready to take our slightly dampened foam paint brush with us to our work area where we have a work mat from the Swatch Kit ready to go.
One side of the work mat has printed instructions and the paint spot and dry spot areas printed in dark black ink so you can see them when you turn the mat over. Turn the work mat over because we always paint shiny side up.
Position a Swatch Right decal in the Paint Spot first. Hold on to the tab to stabilize the decal – the tab is what makes Swatch Right so fabulous so you don't paint your fingers.
You can see how easy it was to load the brush with paint. Since it is dampened, you don't have to pounce and pounce to get enough paint on the brush. It loads easily and you can see that a dampened brush also help with application of the paint. Even the first strokes go on nice and even and not streak at all.
Now, let's talk about the Swatch Kit. You get everything you need to paint three color sample decals.  3 work mats. 3 Swatch Right decals. And One yellow handle with a foam brush attached plus two refill foam brush heads. That means a fresh work mat and brush for each Swatch Right decal in the kit.
You get all that for $14.99 and that's not all. For a limited time we're also offering free shipping!
Great deal, right? Once you use Swatch Right decals for sampling colors, you'll never use anything else.
I hope you find my tip for using foam paint brushes helpful and thanks for watching!